Are you in troubles finding the right gift? Do you want to surprise somebody with an original birthday gift?
Give a tandem jump gift certificate!
You will present the gifted person with a lifetime experience. Just imagine their reaction when they find out. Maybe you will fulfill their secret dream…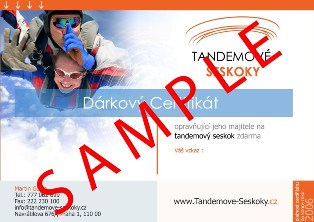 Frequently Asked Questions:
How much does the certificate cost?
The price of the certificate is CZK 3800,-. However, we are right now offering it to you with only one month limited discount at CZK 3690,- !!! The price includes all handling fees, training, and a tandem jump from 4000 m. We also recommend you getting a professional recording for only CZK 1900,- (video and photographs).
How can I order a jump?
fill in an online order form, and we will contact you ASAP
call our 24/7 info line: 777 062 699
send an inquiry to info@tandemove-seskoky.cz and we will reply immediately

How can I get the certificate from you and how can I pay for it?
in person – you can pick your certificate up in our office in Svornosti 30, 150 00, Prague 5 (please call in advance)

by mail – we will send you the certificate via registered mail and you can either pay cash on delivery or you can wire the amount to our account
I don't know what date would be convenient for the gifted person.
When buying a jump certificate you don't need to arrange a date of the jump. The certificate does not have an expiry date and it is transferable.
How can the holder of a gift certificate book the jump?
Once the holder decides when he/she wants to redeem their certificate, they will simply contact us, (see our contact information on the gift certificate). Then we can agree on a date and location for the jump that will be convenient for him/her. It means that you can buy the certificate now and redeem it only in half a year's time. We recommend that you contact us at least one week before the intended date of the jump.
Can you record my jump?
Beside the jump gift certificates, we also offer you the purchase a recording of the jump. A professional cameraman will follow the client during the training part, when they get on board of the plane, during the 20-minute climb, their jump and freefall, opening of the parachute, till they safely land on the ground. Within 30 minutes after the jump we will deliver you a professional video DVD with authentic sound and photos. The recipient of the certificate will then be able to share the experience form your gift with you.
More information about gift certificates can be found here.